Horizon Contour
ADJUSTABLE LINEAR LED
HORIZON CONTOUR offers a wide range of optics, reaching up to 20 feet long throw with narrow optics, to provide incomparable control of light. It can be used to reinterpret its environment with surface grazing on textured walls.
HORIZON CONTOUR is specifically design for precision lighting by allowing tilt and curve adjustment, optimizing the light produced into every unique installation environment.
Applications
Surface Grazing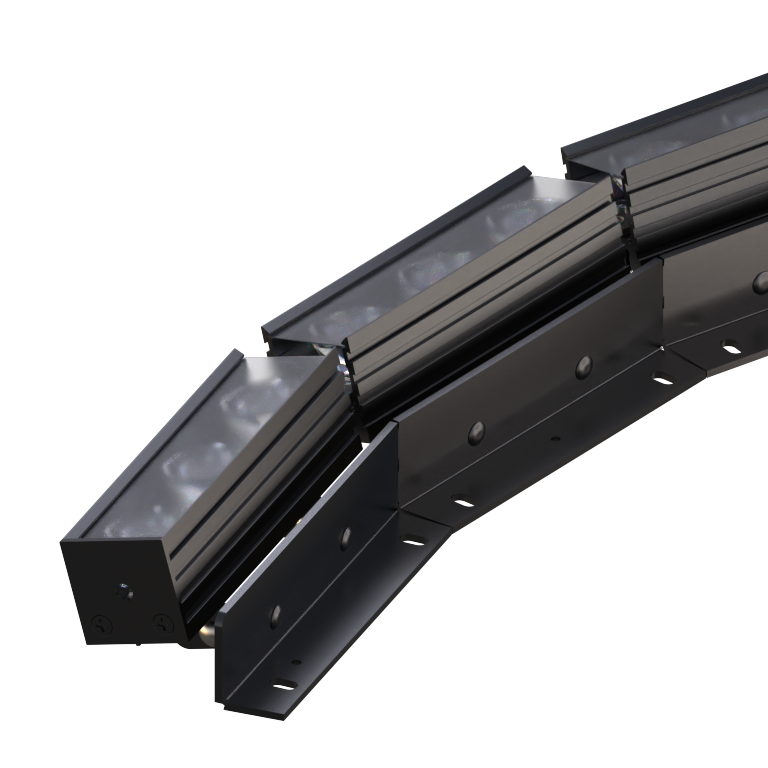 Specifications
Electrical
Operation
Class 2 – DC Luminaire*
Current Reg.: Passive
Driver Compatibility: Universal
*Requires a remote power supply
Power
Available Power Options:
10W/ft (33W/m)
8W/ft (26W/m)
Driver Requirements
12 VDC – Constant Voltage
PWM-type Output (if dimmable)
Certified for remote operation
Recommended LM-12V.60W
Wiring
UL Listed, NEC art. 800 compliant CMG cable*, 48.0″ (1.2 m) – 20 AWG – Red(+)/Black(-), polarized including Wago 221 tool-less quick connectors.
*Not approved for plenum/air handling spaces.
Handling
Warm touch. Power off before maintenance.
Standards compliance
UL Listed, CE, RoHS compliant and FCC compliant.




Optical
Light Source
Premium long-life high-power LEDs.
Luminous Flux Density
Coming Soon
CCT – Color Temperature
2200K, 2700K, 3000K, 3500K, 4000K.
CRI – Color Quality
CRI 80 minimum
typical CRI 85
R9 @21
with source-to-source variations smaller than 3-step MacAdam.
Optic
7D.NBF – 7D + Narrow Beam Filter
11D.NBF – 11D + Narrow Beam Filter
28D.NBF – 28D + Narrow Beam Filter
42D.NBF – 42D + Narrow Beam Filter
8X52D.LOF – 8X52D + Linear Optic Filter
Applications
Designed for Surface Grazing.
Physical
Construction
Aluminium body.
Acrylic lens.
Finish
ABK – Anodized black
ACL – Anodized Clear
MW – Matte White
Adjustment
The spine bracket allows an on-site curvature on a minimum radius of 15.0″ (381 mm) as well as tilt adjustment, 16° exterior and 8° interior.
Dimensions
S = 4.0" (102 mm)
X = 1.75" (44.5 mm)
Y = 2.0" (50.8 mm)
Z = Overall length available from 8.5" (216 mm) to 63.8" (1620 mm)
Warranty
Three (3) years on parts.
See terms and conditions.