Light Manager
Premium LED Luminaires Power Supply
The LIGHT MANAGER is a remotely-operated, premium, advanced power supply for architectural LED lighting systems with unique features. It is available in two constant voltage models: 24V.100W and 12V.60W with native 0-10V dimming to 1% and OFF with options to support DALI and Lutron's Ecosystem.
LIGHT MANAGER is equipped with an integrated full-range trim pot dimmer as well as a main voltage switch-off for easy on-site installation/maintenance. The LIGHT MANAGER is compatible with ON/OFF switches, 0-10V dimmers and advanced digital controls from Lutron and others in option. Guaranteed completely silent, Flicker-free, Camera-compatible; they can be linked together for group control and management. Built-in display shows current state and power consumption.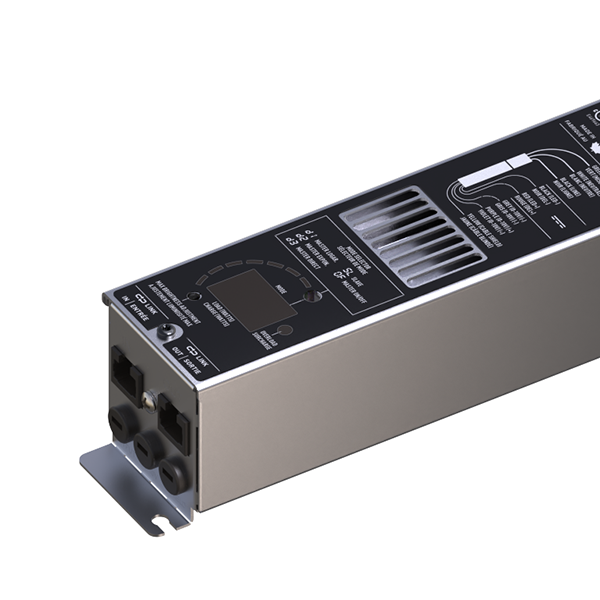 Specifications
Electrical
Output Power Capacity
24 VDC @100W
12 VDC @60W
Mains Input
– 24V –
120-240 VAC (50/60 Hz) w/ slider switch
120-277 VAC (50/60 Hz) w/ rocker switch
– 12V –
120-240 VAC (50/60 Hz) w/ slider switch
Controls
Dim 0-10V to 1%
Dim-to-off
Additional Options*: DALI, Ecosystem
*Please contact your Eklipse representative for further information.
Warranty
Three (3) years on parts.
See terms and conditions.
Standards compliance
cULus Listed, CE, RoHS compliant and FCC compliant.
IEEE 1789 Flicker-free
EnergyStar Compliant
Title24 Compliant




Physical
Construction
UL Listed robust 25GA galvanized steel enclosure for remote surface easy installation.
Isolated electrical compartment for wiring to primary.
Extra electrical knockouts for parallel wiring.
Premium Features
Mains power cutoff switch
Built-in full-range dimmer (set-and-forget style)
Multiple Drivers Sync operation using only RJ-45 cables and mode selector button for on-site adjustment and configuration.
Guaranteed Silent Operation
Flicker-free / Camera compatible
Power Monitoring Display
Dimmable to Off (Sleep state)
Smooth StartUp (1.2 sec to 100%)
Dimensions
H = 2.12″ (53.9 mm)
W = 2.10″ (53.3 mm)
L1 = 14.50″ (368.3 mm)
L2 = 13.50″ (342.9 mm)