Nixe
LINEAR LED
NIXE linear LED luminaire is one of the smallest on the market, measuring only 3/8 inch – barely the width of a fountain pen. It integrates perfectly into its environment and its design, without any apparent trims or edges, makes it become almost invisible. This benefits aesthetic as well as functional values, keeping the surface even and diffusing light without interruption.
We have specially studied and developed its linear optics to create pixel-free light source, giving constant and uniform luminance. Despite this technical challenge, NIXE still perfectly controls its light distribution. Offer in five different optics, from very narrow to very wide, as well as an asymmetrical distribution.
Applications
Surface Washing or Grazing, Cove, Vitrine, Display and Shelf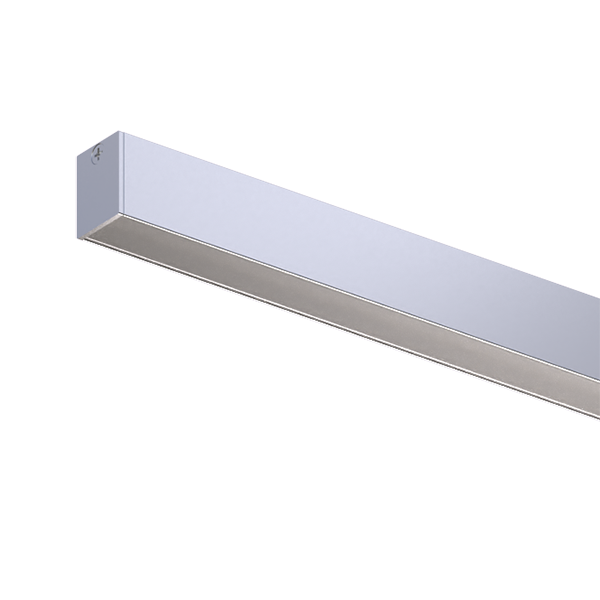 Specifications
Electrical
Operation
Class 2 – DC Luminaire*
Current Reg.: Passive
Driver Compatibility: Universal
*Requires a remote power supply
Power output
Available Power Options:
4W/ft (13W/m)
6W/ft (20W/m)
Driver Requirements
24 VDC – Constant Voltage
PWM-type Output (if dimmable)
Certified for remote operation
Recommended LM-24V.100W
Wiring
UL Listed, NEC art. 800 compliant CMG cable*, 48.0″ (1.2 m) – 20 AWG – Red(+)/Black(-), polarized including Wago 221 tool-less quick connectors.
*Not approved for plenum/air handling spaces.
Handling
Cool touch. Can be handled safely and repositioned during operation.
Standards compliance
UL Listed, CE, RoHS compliant and FCC compliant.




Optical
Light Source
Highest-density premium long-life mid-power LEDs.
Luminous Flux Density
360 lm/ft (1180 lm/m)
@ 92 lumens/Watts
535 lm/ft (1755 lm/m)
@ 91 lumens/Watts
CCT – Color Temperature
2200K⁽⁸⁰⁾, 2400K⁽⁸⁰⁾, 2700K⁽⁸⁰⁻⁹⁰⁾, 3000K⁽⁸⁰⁻⁹⁰⁾, 3500K⁽⁸⁰⁻⁹⁰⁾, 4000K⁽⁸⁰⁻⁹⁰⁾.
CRI – Color Quality
CRI 80 minimum
typical CRI 85
R9 @21
CRI 90 minimum
typical CRI 94
R9 @71
with source-to-source variations smaller than 3-step MacAdam.
Optic
100D
A15D – 80° beam tilted at 15° from nadir
70D
40D
20D
Applications
Designed for Surface Washing or Grazing, Cove, Vitrine, Display and Shelves.
Physical
Construction
High precision aluminum body.
Extruded acrylic optic.
Finish
ACL – Anodized Clear
Mounting
MIH – Magnetic Insert Horizontal
PILC* – Pivoting Inside Leg Cap
*PILC allows for an on-site 180° pivoting adjustment.
Installation
MIH – Integrated neodymium magnets makes installation a breeze with our Carbon Steel Band (accessory).
PILC – No. 4 countersunk screws.
Acceptable voltage loss tolerance up to 2.5 Volts. See our LIGHT MANAGER specification for max cable length table per AWG.
Dimensions
X =0.375" (9.5 mm)
Y =0.500" (12.7 mm)
Z =Configurable length available from 8.2" (208 mm) to 100.2" (2545 mm) in 1" (25.4 mm) increments.
Warranty
Three (3) years on parts.
See terms and conditions.