Pixis Hydra
MINI SPOT LED
The PIXIS™ family is a gem of innovation and ingenuity, very small but sturdy and easy-to-use, this mini-LED spotlight has a magnetically assembled snoot which handles field-interchangeable optics of 18°, 24° and 41°. Completely independent from one another, each head can rotate 360° and pivot 80° for maximum light control.
Last born of the family, PIXIS™ HYDRA is designed, this time, for vertical glass display.
PIXIS™ HYDRA model for retail showcase display up to 90 inches (2286 mm) high with up to 5 heads and is designed to allow you to create and recreate your staging in one quick and easy gesture. The heads can be detached from their electrical receptacle allowing you to reconfigure your environment in any way you want as often as you need. The magnetic connection ensures error-free in and out repositioning. Elegant and discreet design, all visible parts are safe for handling.
One of a kind PIXIS™ HYDRA can be easily installed on many different types of surfaces using one of two magnetic fastening support, with screw or with sticker.
Applications
Vitrine, Display and Cabinet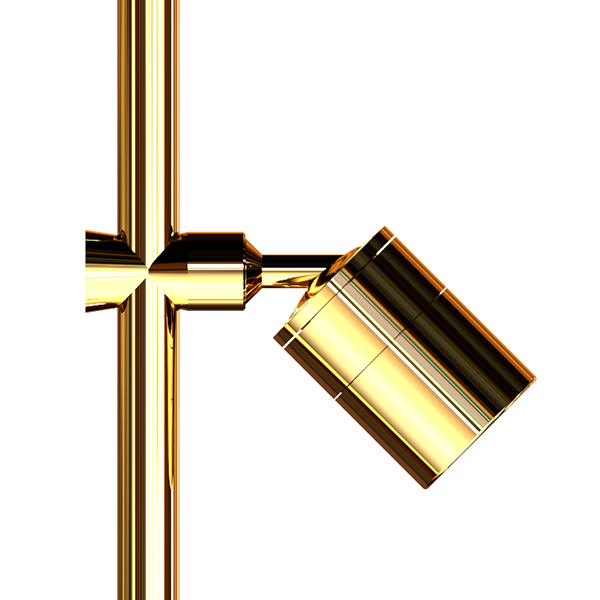 Specifications
Electrical
Operation
Class 2 – DC Luminaire*
Current Reg.: Passive
Driver Compatibility: Universal
*Requires a remote power supply
Power
Available Power Options:
3.5W / Head
Driver Requirements
12 VDC – Constant Voltage
PWM-type Output (if dimmable)
Certified for remote operation
Recommended LM-12V.60W
Wiring
Per Pixis head, Black(-)/Red(+) wires, 48.0″ (1.2 m) – 24 AWG – UL Listed, AWM style 1213, polarized including Wago 221 tool-less quick connectors.
Handling
Warm touch. Can be handled safely and repositioned during operation.
Standards compliance
UL Listed, CE, RoHS compliant and FCC compliant.




Optical
Light Source
Premium long-life high power LEDs.
Luminous Flux Density
175 lm
@ 61 lumens/Watts
CCT – Color Temperature
2200K ⁽⁸⁰⁾, 2700K ⁽⁸⁰⁻⁹⁰⁾, 3000K ⁽⁸⁰⁾, 3500K ⁽⁸⁰⁾, 4000K ⁽⁸⁰⁾.
CRI – Color Quality
CRI 80 minimum
typical CRI 85
R9 @19
CRI 90 minimum
typical CRI 93
R9 @62
with source-to-source variations smaller than 3-step MacAdam.
Light orientation
PIXIS head rotates 360° and pivot on 80°.
Optic
Interchangeable optic available in 18D, 24D, 41D.
Applications
Vitrine, Display and Shelves.
Physical
Construction
High precision aluminum body.
Acrylic optics.
Steel mounting and stem.
Finish
BB* – Brushed Brass
PB* – Polished Brass
TWB – Time Worn Brass
BC – Brushed Chrome
PC – Polished Chrome
BG* – Brushed Gold
PG* – Polished Gold
PBKN* – Polished Black Nickel
*Finish not available in length longer than 55.0″ (1397 mm)
Installation
T – Installation with sticker.
S – Installation with screws.
NA – No mounting.
Dimensions
A = 1.28″ (33 mm)
B = 0.96″ (24 mm)
C = MIN 0.75″ (19 mm)
D1 = Ø 0.95″ (24 mm)
D2 = Ø 0.48″ (12 mm)
D3 = Ø 0.38″ (9.5 mm)
D4 = Ø 0.63″ (16 mm)
D5 = Ø 0.75″ (19 mm)
E = 0.375″ (9.5 mm)
H = Configurable height available in 0.1″ (2.5 mm) increments, 18.0″ (458 mm) to 90.0″ (2286 mm).
*For Pixis Hydra with multiple heads, MIN 2.0″ (51 mm) spacing required in between them.
Warranty
Three (3) years on parts.
See terms and conditions.