Proxi
Linear LED
PROXI is the latest addition to our award winning small form linear LED family. PROXI was designed to offer outstanding light performance and distribution in an almost invisible millwork detail.
Applications
Shelf and alcove
Context and application
Overview
Specifications
Electrical
Operation
Class 2 – DC Luminaire*
Current Reg.: Passive
Driver Compatiblity: Universal
*Requires a remote power supply
Power
Available Power Options:
2.5 W/ft (8.0 W/m)
4.0 W/ft (13.0 W/m)
6.0 W/ft (20.0 W/m)
Driver Requirements
24 VDC – Constant Voltage
PWM-type Output (if dimmable)
Certified for remote operation
Recommended LM-24V-100W
Wiring
Black/Red pair, 48" (1.2 m) – 24 AWG – UL Listed, including Wago 221 tool-less quick connectors.
Thermal Control
Through constant thermal monitoring and current control, Eklipse intelligent board technology (IBT) maintains optimal light levels and operating temperature preventing harmful overheating by self adjusting to its environment.
Physical
Construction
High precision thin-walled aluminum extrusion.
PET barrier film.
Finish
Anodized clear
Installation
Custom integrated neodymium magnets in Proxi makes installation a breeze with our Carbon Steel Band (accessory). Acceptable voltage loss tolerance up to 2.5 Volts. See our light manager spec for max cable length table per AWG.
Handling
Cool touch. Can be handled safely and repositioned during operation.
Applications
Designed for shelves, display, showcases, undercabinets, integrated into furniture, closets and other applications. At 2.5 W/ft: UL Closet rated (certified safe for direct contact with clothing).
Light
Light Source
Highest-density premium long-life mid-power LED light engine.
Luminous Flux Density
220 lm/ft (720 lm/m)
340 lm/ft (1120 lm/m)
500 lm/ft (1640 lm/m)
@ 85 lumens/Watts
CCT – Color Temperature
2200K⁽⁸⁰⁾, 2400K⁽⁸⁰⁾, 2700K⁽⁸⁰⁻⁹⁰⁾, 3000K⁽⁸⁰⁻⁹⁰⁾, 3500K⁽⁸⁰⁻⁹⁰⁾, 4000K⁽⁸⁰⁻⁹⁰⁾.
CRI – Color Quality
CRI 80 minimum
typical CRI 85
R9 @21
CRI 90 minimum
typical CRI 94
R9 @71
with source-to-source variations smaller than 3-step MacAdam.
Optics
Integrated high performance thin film optic.
Warranty
Three (3) years on parts.
See terms and conditions.
Standards compliance
UL Listed, CE, Closet Rated and RoHS compliant.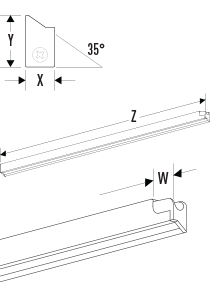 X = 0.250" (6.5 mm)
Y = 0.440" (11.5 mm)
Z = Configurable length available in 1" (25.4 mm) increments, 10.1" (256 mm) to 100.1" (2542 mm).
W = 0.333" (8.5 mm)
*Available for tailor-made application. Please contact your Eklipse representative for further informations.