Lifeline Surface
TRACK SYSTEM
LIFELINE SURFACE is a refined and minimalist track lighting system that can accommodate three luminaires specially designed for it, PIXIS, PIXIS FIVE and MILI. LIFELINE SURFACE track system encompasses near invisible integration, ingenious connectivity and a simplified installation.
We have designed the whole track system for being as miniature as possible and invisible once integrates into the shelf. Thanks to its magnetic connectivity, placing the lighting fixtures is a child's play and safe. Vertical, horizontal or sloping surface, recessed or surface mounted, it's needless to say the three luminaires PIXIS, PIXIS FIVE and MILI slide freely all along and can be repositioned unrestrictedly to create new ambiance easily.
Combine LIFELINE SURFACE with LINK connector and discover a new level of versatility in adjustable shelving.
Applications
Tracklight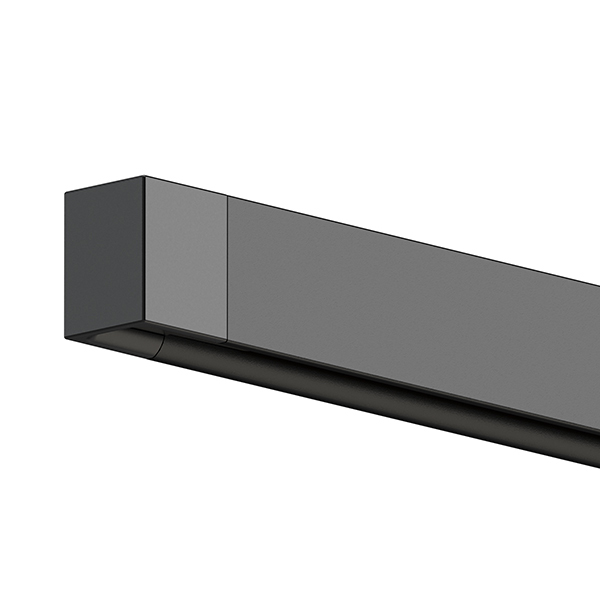 Specifications
Electrical
Operation
Class 2 – DC Luminaire*
Current Reg.: Passive
Driver Compatibility: Universal
*Requires a remote power supply
Input Voltage
24V
Max Load
100W per UL8750 class 2 requirements.
Driver Requirements
24 VDC – Constant Voltage
PWM-type Output (if dimmable)
Certified for remote operation
Recommended LM-24V.100W
Wiring
– Ceiling/Wall –
Wiring option "B12", UL Listed, NEC/CEC compliant CMP plenum-rated white cable, 12.0″ (0.3 m) – 20 AWG – Red(+)/Black(-), polarized with asymmetrically aligned crimp butt splices connectors for permanent connection.
– Millwork –
All wiring options, UL Certified, AWM Style 2464 black cable, 20 AWG – Red(+)/Black(-), polarized.
Application & Warranty
Application
Powerful and flexible, LIFELINE product family simply connect and pivot anywhere along the product and can be repositioned unrestrictedly.
Warranty
Three (3) years on parts.
See terms and conditions.
Standards compliance
UL Listed, CE, RoHS compliant and FCC compliant.




Physical
Construction
Aluminium body.
Copper conductor.
Thin steel strip.
Finish
ABK – Anodized Black
ACL – Anodized Clear
MW – Matte White
Mounting
T – Installation with double side tape
S – Installation with screws
Dimensions
X = 0.38" (9.6 mm)
Y = 0.50" (12.7 mm)
W = 0.80" (20.0 mm)
Z = Configurable length available from 2.7" (68.6 mm) up to 100.0" (2540.0 mm) in increments of 0.1″ (2.6 mm).