Mili Lifeline
Micro linear luminaire
MILI LIFELINE minimalistic design lessens its presence thereby making light its foremost aspect. With 3 asymmetric light distribution options, uniform luminance, and miniaturized dimensions, MILI LIFELINE revolutionizes illumination.
With its magnetic connectivity, MILI LIFELINE can be placed in the LIFELINE with one quick and easy gesture. It can glide freely along and be repositioned with no restrictions, thereby creating and recreating personalized ambiances as you please.
Applications
Tracklight, Millwork and Architectural Lighting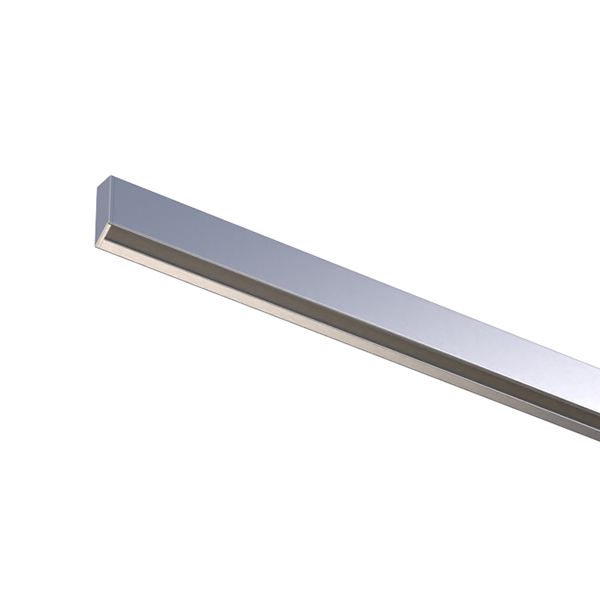 Specifications
Electrical
Operation
Class 2 – DC Luminaire*
Current Reg.: Passive
Driver Compatibility: Universal
*Requires a remote power supply
Power
Available Power Options:
4W/ft (13W/m)
6W/ft (20W/m)
Driver Requirements
24 VDC – Constant Voltage
PWM-type Output (if dimmable)
Certified for remote operation
Recommended LM-24V.100W
Handling
Cool touch. Can be handled safely and repositioned during operation.
Standards compliance
UL Listed, CE, RoHS compliant and FCC compliant.




Optical
Light Source
Highest-density premium long-life mid-power LEDs.
Luminous Flux Density
326 lm/ft (1070 lm/m)
@ 77 lumens/Watts
480 lm/ft (1575 lm/m)
@ 72 lumens/Watts
CCT – Color Temperature
2700K⁽⁸⁰⁻⁹⁰⁾, 3000K⁽⁸⁰⁻⁹⁰⁾, 3500K⁽⁸⁰⁻⁹⁰⁾, 4000K⁽⁸⁰⁻⁹⁰⁾.
CRI – Color Quality
CRI 80 minimum
typical CRI 85
R9 @21
CRI 90 minimum
typical CRI 94
R9 @71
with source-to-source variations smaller than 3-step MacAdam.
Light Distribution
Available in 35D, 25D and 10D tilt angle.
Optic
Integrated Frosted Film.
Applications
Designed for shelves, display, showcases, integrated into furniture, and other applications.
Physical
Construction
High precision aluminum body.
PET film.
Finish
ABK – Anodized Black
ACL – Anodized Clear
Mounting
Custom integrated neodymium magnets in Mili Lifeline makes installation a breeze in our LIFELINE track system. Acceptable voltage loss tolerance up to 2.5 Volts. See our LIGHT MANAGER specification for max cable length table per AWG.
Dimensions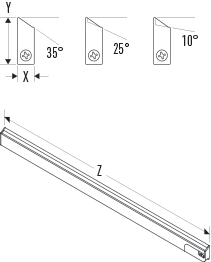 X = 0.18″ (4.7 mm)
Y = 0.50″ (12.7 mm)
Z = Configurable length available from 8.1″ (205 mm), 10.1″ (256 mm) to 60.1″ (1526 mm) in 1″ (25.4mm) increments.
Warranty
Three (3) years on parts.
See terms and conditions.